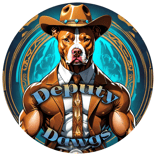 Deputy Dawgs ( $DDawgs ) is an innovative meme token project built on the ethereum network ( erc20) that combines the irresistible appeal of memes with the exciting world of NFT gaming. Our mission is to create a thriving ecosystem where meme enthusiasts, collectors, and gamers can come together to experience the joy of memes while unlocking new opportunities for growth and engagement.

The meme, NFT, and gaming industries have significant influence in the current digital landscape. Memes are viral content that shape online culture. NFTs revolutionise digital ownership and authenticity. Gaming is a booming industry, offering immersive experiences, competitive gaming, and social connections. Together, these industries shape digital culture, redefine ownership, and provide engaging experiences.
Arcade games integrated with Web3 can serve as a unique burning mechanism for token supply. By incorporating blockchain technology, these games can introduce a "play-to-burn" concept where tokens are burned as players engage with the game
Our ecosystem encompasses a diverse range of NFTs, including AI-generated digital art and NFTs crafted by accomplished real artists. These unique creations, born from the fusion of cutting-edge AI technology and human creativity, provide holders with a gateway to unlock a multitude of perks within our platform. By owning these distinctive NFTs, individuals gain exclusive access to enhanced benefits and rewards, fostering a deeper level of engagement and participation in our thriving community.
Our initiative entails the collaboration with esteemed professional artists to create a collection of exquisite hand-drawn Rare NFTs. These captivating artworks will be prominently showcased during our bi-weekly Auction Events, strategically designed to incentivize and engage our community. Notably, participants from the US region will have the unique privilege of receiving physical versions of their purchased NFTs, adding an extra dimension to their ownership experience.